Residential Efficiency Scorecard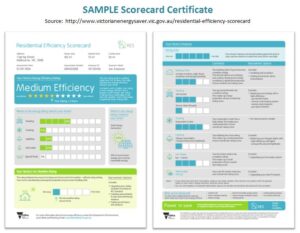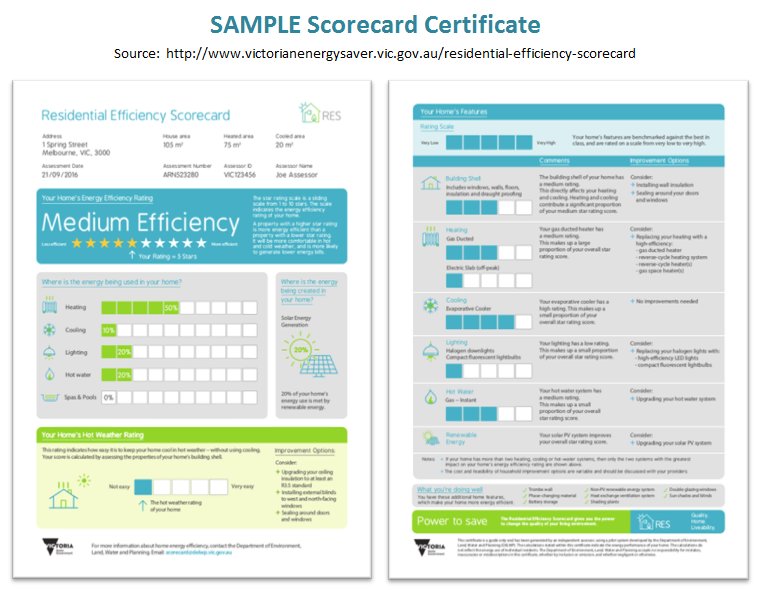 The Victorian Residential Efficiency Scorecard is now available to householders in Victoria.
The Scorecard has been developed by the Victorian Government to help Victorians better understand the energy performance of their homes and to make informed choices about improving the quality of their living environment, while saving money on their gas and electricity bills.
Our Assessors at Green Moves are Scorecard Accredited and can provide a wide range of services. Anything from helping you to reduce energy use in the home through to renovation and new home build guidance to make your home more comfortable and cheaper to run. See the short clips below to find out other ways Scorecard can be used.
How can a Scorecard Assessment help you?
How does it work?

How long does it take? 
A Scorecard Assessment takes between 1.5 and 2.5 hours onsite depending on the size of the home. On arrival the Assessor will ask you to sign a Scorecard Privacy Statement before the assessment can commence, they will need access to all areas of the home (including the ceiling space if possible to check insulation), and will need to take evidentary photos of specific items onsite.  The findings will be reviewed with you at the end of the assessment.  This is your opportunity to ask any other questions you may have about energy efficiency and sustainability of your home.
What do you get out of it?
Find out how good, bad or otherwise your home rates in terms of cost to run and a Scorecard Certificate showing the Star Rating.  We will also advise  on what you can do to improve it, what the priorities are depending on your specific circumstances and time of year, and provide a report for you to refer to.  Note we can also do Scorecard Assessments off the plan for renovations and new builds, enabling you to maximise benefit in terms of comfort, future cost to run and value when reselling.
How much does it cost?
An average 3 bedroom home costs around $350, the actual cost will depend on the size of the home.  Smaller homes will be a bit less, larger and more complex homes a bit more.
Do you offer a Seniors Discount?
Yes we do, 10% seniors discount is available.
Most importantly – What do our customers think?
"Danielle was excellent, very knowledgeable and practical. We especially appreciated her suggestions as they were prioritised and took into account the energy savings versus the money spent to upgrade or improve. Highly recommend this service. Danielle helped us to decide where to spend our money to improve our home energy usage."   Cristin B, Oakleigh, VIC
" We chose GreenMoves Australia to complete an Energy Efficiency Scorecard after considering a number of local suppliers. The booking and assessment process was simple and prompt. We enjoyed having Lucinda visit and complete the assessment. She engaged well, was very thorough, answered a lot of questions, and explained things extremely well. The report provided complete observations, advice, and general information. Despite being stunned by the positive outcome rating we will be undertaking the few recommended additional improvements. Thank you for the prompt provision of this service. "   Kerry C & Cushla C, Cranbourne West, VIC
Like to know more or book an assessment?  Click here to get in touch now.