Winter is on its way and its time to turn our thoughts to keeping snug and warm in our homes during those cooler months.  Heating is a significant contributor to energy costs in a home so it's good to use systems that are efficient. But what is not often considered is finding one that helps with health issues.  By that we mean allergies or respiratory conditions such as Asthma.
Many heating systems work by heating air and blowing it around the home. Whilst this is a fast way to warm a house, it does blow dust and other particles around the home which can aggravate some allergies. So if you have anyone in your home that suffers from dust mites, asthma or other respiratory conditions, consider heating systems that do not blow hot air around the home.
Heating systems that are efficient in energy terms, and better in health terms include hydronic heating and natural convection heaters.
Hydronic heating provides a lovely warmth for the the home and is provided by hot water (solar boosted or gas fired usually) circulating through pipes usually in panels fixed to a wall or under the floor.  In terms of efficiency, the wall panels (and there are a great variety that range from skirting board panels to functional towel rails) are the most efficient,  They warm the home reasonably quickly, can be easily zoned to local rooms and are generally easy to access to fix should any leaks occur.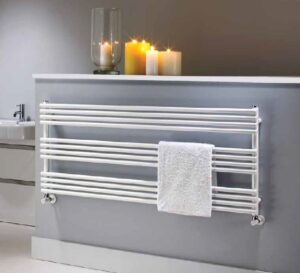 Under floor hydronic heating is not as efficient as the panels (even when zoned) because of the latent time it takes to warm up the area, and again to cool down when it is turned off. There is also the potential issue of having to pull up a floor if a leak occurs for any reason. In cities like Melbourne where it can literally go from warm to very cold in a matter of 10 minutes, having a responsive heating system is important.  So give careful thought to underfloor hydronic heating.
For those who do not want the expense of hydronic heating, there are two highly energy efficient natural convection wall panel heaters available which are suitable for smaller spaces such as bedrooms and home offices.  They are the Econo Heater (priced between $80-$170 depending on the model) and the Envi Heater (priced around $170).
The Econo heater uses just 400w per hour (1/4 of a standard panel heater), the Envi heater uses 475w per hour and is just as efficient.  Both can plug into a standard power outlet, fix to the wall (internal walls preferably) and have no moving parts (like fans) so are very quiet. Check them both out if you're looking for a simple, cost effective and healthy heating option for your home this winter.  Images of both are below.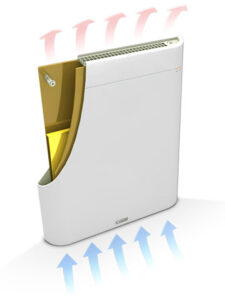 Remember, do a quick check around and check your draft proofing is as good as it can be to ensure your heat stays in the home, and does not escape too quickly!  For more hints and tips on keeping warm in winter see our checklists and tips in the Resources section.