Sustainability Victoria has just released a report on the "Energy Efficiency Upgrade Potential of Existing Victorian Houses", based on a study of 60 existing (pre-2005) houses.  The focus of the study was to identify the energy efficiency upgrade potential of Victoria's existing housing stock, and to provide insight to the impact in terms of savings of applying energy efficiency upgrades.
The study looked exclusively at the impact of applying up to eleven different types of building shell upgrades.   The changes applied and analysed were:
Ceiling insulation (easy install)
Draft sealing
Sealing wall cavity
Reducing sub floor ventilation
Under floor insulation
Wall insulation
Ceiling insulation (difficult install(
Ceiling insulation top up
Double glazing
Drapes & pelmets
External shading
The study found that by using a combination of relevant actions, the average average Home Energy Rating (HER) could be increased from an average of 1.8 stars to just over 5 stars.   The graph below shows the distribution of House Energy Rating (HER) from the houses studied.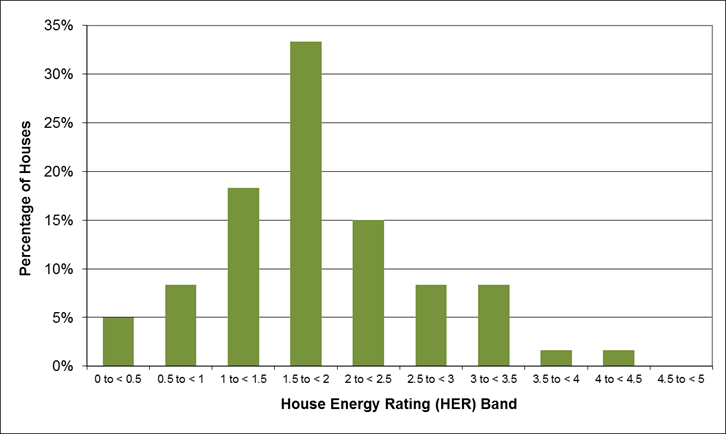 As a result of the study Sustainability Victoria were able to identify key areas where savings were achieved and quantified. The graph below shows the combined findings in terms of estimated energy saving potential of Victoria's existing houses.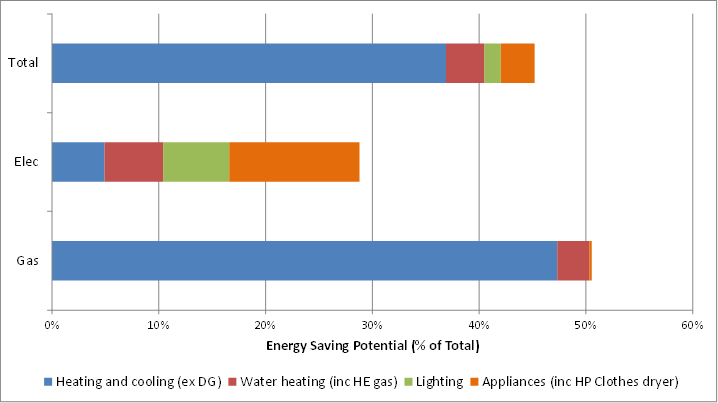 The reports make interesting reading.  Note that behavior was not analysed as part of this study. Although it was thought that an additional 10% to 20% of efficiency could be gained through better energy use practices.
This study also did not include other types of energy efficiency upgrades such as Solar PV, replacement of gas heating with efficient reverse cycle units, and solar air heating devices.  Maybe these will be the subject of interest in the future.
Reports available now
Energy Efficiency Upgrade Potential of Existing Victorian Houses (aka the On Ground Assessment study)
Halogen Downlight Retrofit Trial
Draught Sealing Retrofit Trial
Cavity Wall Insulation Retrofit Trial
Gas Heating Ductwork Retrofit Trial
Reports being released mid October 2016
Gas Water Heater Retrofit Trial
Clothes Dryer Retrofit Trial
Refrigerator Retrofit Trial
Swimming Pool Pump Retrofit Trial
Window Film Secondary Glazing Retrofit Trial
Further information and the reports available can be found on the Sustainability Victoria website:
Click here to go to the Sustainability Victoria website to read/download the reports.