One year on, Scorecard is expanding
Last year in April Greenmoves published a story about the Victorian Residential Efficiency Scorecard, a government-backed program where accredited assessors visit Victorian homes, assess their energy efficiency and deliver a star rating and upgrade suggestions. The star rating represents the running cost of the home and its fixed appliances.
At the end of March 2017, phase one of the program was released and accredited assessors, working with not-for-profits and local councils, began assessing homes. Now one year on, Scorecard is in its second phase: assessors can now advertise their services, and small businesses have started delivering Scorecard assessments. So what other milestones have happened within the first year since Scorecard was released?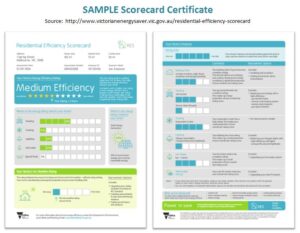 Scorecard is proud to report that more than 700 assessments completed across Victoria, which means 719 households have been given the information and advice they need to become more comfortable at home and reduce their bills and emissions.
Over the past year, the Victorian Government has gained an important insight into the state of housing in Victoria, in particular its resilience to extreme weather as well as its ability to protect vulnerable Victorians.
When it comes to heating and cooling homes in Victoria, assessments have revealed that most houses are difficult to keep cool during the hot weather months without air conditioning.
Drafty buildings, sub-standard windows, poor orientation and lack of shading and insulation has meant for most Victorians switching on the air-con on hot days is a must. This increases the demand for electricity and hikes up the monthly household electricity bills. Poor building shells also have meant houses cannot easily be kept warm in winter.
All this de-identified data mean the Victorian Government can learn more about the challenges facing Victorians in extreme weather. This helps develop evidence-informed steps to improving housing stock.
With assessments being carried out right across the state, from Maryborough to Sale, the program is producing high quality data and making sure the service is equitably provided. Gone are the days of services like Scorecard being available only to inner-city greenies! The regions are very much part of this program.
Eighteen assessors have been through the Scorecard training and are qualified and currently providing assessments, with many more coming through the accreditation pipeline.
Scorecard continues to provide an exciting and new opportunity for people from all kinds of backgrounds. All Victorians who have the appropriate qualifications are able to apply for the training and challenge themselves to get through the rigorous, but rewarding accreditation. Because the accreditation takes time to complete, assessors are of a very high standard. The chance to enter into the program and become accredited has proven very popular and for those already providing home assessments, it is an opportunity to offer a new service, and for others it is a whole new line of business or the commencement of a new career pathway.
These new Scorecard assessors can now pride themselves on providing well-informed, transparent and standardised advice on home energy efficiency to all Victorians.
Contact us to discuss how the Scorecard could benefit you or to book an assessment